Mobility
In the wake of more bad (good if you are for green) news in China's auto sales trends, GLF is observing an increasingly resonant cacophony of green washing in the auto sector…
"Small is beautiful" seems to be the message by industry analysts to Chinese auto makers.  The government agrees, as evidenced by the new tax breaks given to cars with smaller engines.
Haifei Automobile Group joins the electric vehicle race and sets its sights on launching the Haifei Saibo electric vehicle in the U.S. markets later this year.  Lithium-phosphate battery maker China BAK is getting government support for R&D.  GreentechMedia debates if the U.S. will move from Arab oil dependence to Asian car battery dependence.  Another angle is if both the U.S. and Asia moves towards South American lithium dependence.
Beiqi Foton Motor (SHSE: 600166) established China's first manufacturing and R&D base for new energy vehicles in Beijing.  The base covers an area of 1,000 mu (around 66.67 hectares), with a total investment of 5 billion yuan and an annual production capacity of 5,000 passenger cars of different types using alternative energy and new energy and 400,000 energy-efficient engines.

Meanwhile, Beijing has banned to so-called "yellow label" vehicles that are so termed because they do not meet Euro I emission standards.  Beijing also pledges keep fares for mass transit low.   Last November, the capital city announced big (i.e. 240 billion yuan) plans of its own to develop its public transportation infrastructure network, including a 100 km rail to connect 11 satellite cities.
China reportedly has 26,000 km of electrified railways, ranking it second in the world.  Encouragingly, while this figure accounts for 32% of China's total railways, it is responsible for 50% of overall passenger and cargo volume.
Fuel pump prices were reduced again and more cuts may be in the cards to bring prices closer to international market prices.
Biodiversity, Forestry & Agro
Yunan will establish 10 biodiversity conservation projects for rare species such as the dolphin deer, the Chinese manglietiastrum (Manglietiastrum sinicum) – a rare flowering plant endemic to Yunnan.  At 50,000 yuan (US$7,000) per project, though, GLF wonders how effective these programs will be.
Meanwhile, the State Forestry Administration reiterates the nation's goals of achieving 20% forest coverage by 2010.
The rise in domestic grain output is welcome relief and may serve as a momentary distraction from the GMOs debate.  But quantity is different from quality, and the food safety fallout continues to wear its ugly head as food export levels faltered in November.  Corruption remains the big culprit in the food safety crisis says an anti-corruption body.
Water
In what perhaps seemed like a huge understatement, the need to step up efforts on water conservation was urged Vice Premier Hui Liangyu.  Of particular note, however, was the Vice Premier's linkage of water and soil, at least as presented in the reportage of Xinhua.  The understanding of the inter-relationships of soil and water are crucial for watershed management.  Eight water conservation and flood control projects along the Yangsze River will be carried out.
As the monstrous Three Gorges Dam project is completed this year, China is bringing its hydropower expertise to other parts of Asia.  Another water fiasco, namely the South-to-North Water Diversion Project, might undergo some "adjustments" over environmental concerns.
If you happen to be in Beijing this coming week, there's a great talk on water resources on Jan 21 (Wednesday) hosted by the Beijing Energy Network.
Greenfrastructure (or the Lack Thereof)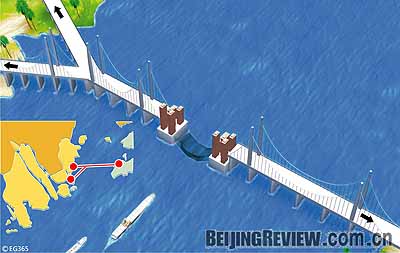 In the Pearl River Delta, an extensive transportation network of roads, railways, ports and airports will be built over 12 years as part of a greater economic development plan to reorient the region's economic base from one of low value added manufacturing to a high tech knowledge-based one. One of the key features of the transportation network is a 29 km bridge (pictured right), the longest in the world that will connect Hong Kong, Macao and Zhuhai of southern Guangdong Province.  According to China Daily:
The construction would be carried out on an energy-efficient and environment-friendly basis by using renewable energy and clean technology, according to the development plan.

As of 2020, energy consumption per unit of gross domestic product (GDP) in the region will be reduced to 0.57 tons of standard coal equivalent and 80 percent of industrial water can be reused.
Tibet is going to build its first highway, a 37.9 km route with two lanes on each side designed for speeds of 80 to 120 kmh.  Fuck.  Anything to accomplish double digit economic growth.  Well, at least they will be aligned with solar street lamps, right?   In total, some 300,000 km of roads through rural areas nationwide are planned for building or renovation this year.  According to China Daily, China currently 3.68 million km of roads and 60,300 km (6,433 built last year alone ) of highway.
The city of Haikou in Hainan province outlines 5 strategies to make better use of renewable energy to power its city.  Haikou could teach neighboring Changjiang, which plans to go nuclear,  a lesson.
There are reports of NIMBYism in Guandong over the construction of a transformer substation.  NIMBYism is what moved this chemical plant from Xiamen to Zhangzhou in Fujian province,
The Ministry of Environmental Protection hints at turf wars within the central government bureaucracy when it says it is keeping its eye on 两高 (Liang Gao, or literally, Double High) industries but fears that the economic downtown might be used as an excuse to prop such highly polluting and high energy consumption sectors up.  These fears seem valid considering statements such as these by the NDRC suggesting that the steel and vehicle sectors should be propped up.  Indeed, measures for the auto industry have already been announced.  And steel, too.
On the electron highway front, the State Grid is committing to pump 100 billion yuan to build ultra high voltage (UHV) transmission lines over the next 3 to 4 years to reach the the hydro-rich regions of the southwest and the coal-rich regions of the north.
Circular Economy
Remember the ban on free plastics bags that came into law mid last year?  Yunnan province is banning plastic bags outright. 
China Daily explores the possibilities of greening China's cement industry.  The 11th Five Year Plan (2006 to 2010) for the cement industry is to reduce energy consumption for each ton of cement produced by 25%.
Fuels from Heaven
A massive 1GW solar farm project is slated for Qinghai's Qaidam Basin, larger than anything that has ever been announced in the world.  I hope they are not building over any wetlands.  Hong Kong-based China Technology Development Group Corporation (Nasdaq:CTDC) and Qinghai New Energy (Group) Co. Ltd. will develop the project, which will integrate crystalline silicon and thin-film solar cells, is scheduled to begin construction in 2009 with initial investment of about RMB 1 billion for an initial phase of just 30MW.   Venture Beat expresses skepticism as to whether the entire project will ever be completed.  This project announcement comes in the heels of, and in some sense blows away, the already sizeable 166 MW solar project announced in Kunming (Yunnan province) last year.
On the manufacturing side, all is not well as the massacre continues, with reports that some 70% of PV makers have been forced out of the market in the face of collapsed overseas demand.  Suntech, the poster-child for China's PV manufacturing industry, is cutting 10% of its work force and is operating at just 50 to 60% capacity.
In the wind sector, General Electric will form a joint venture with Shenyang, China's A-Power Energy Generation Systems (NASDAQ:APWR) to manufacture wind turbine gearboxes in the country.
Fuels from Hell (a/k/a A-Dose-of-Brown-Reality Section)

Say what you will about developing cleaner new energy resources, fules from hell still very much remain central to China's domestic energy production policy.  China plans to increase oil, coal and natural gas production by 7%, 30% and 100% respectively by 2015 over 2007 levels.  This year alone, 5 new nuclear plant projects will commence construction.  In 2008, installed power capacity increased by some 90.5 GW.  According to Caijing, some 65.75 GW of this was hell-based (i.e. coal), while hydro accounted for 20.1 GW and wind 4.66 GW.
Comments (4)
Trackbacks for this post