Its been a busy few weeks since our last Green Hops, so GLF is gonna pack in the updates over two posts consecutive posts.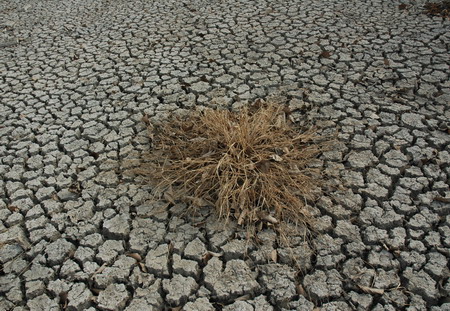 Drought
The "worst drought in half a century" affecting eight northern and central provinces dominated the past week's news.  A 90 percent drop in average rainfall since last November will affect 11 million hectares of wheat crops and create a drinking water shortage for 4.4 million people and 2.2. million livestock.  RMB 187 billion of emergency funds have been earmarked.  As stop-gap measures, authorities are diverting water from the Yangtze and Yellow River to drought-ridden areas, as well as shelling the sky with pellets to induce rain, Beijing Olympics-style.  The water diversion measure has been able to get half of the wheat lands irrigated, but is rather ironic given that a recent study shows that 82% of China's whopping 3.57 million square kilometers of degraded lands (equivalent to the size of 10 Germanys!) exists in the Yangtze River and Yellow River valleys.  The water scarcity woes of northern China have been well described on this blog by Christine Boyle.  The World Bank also chimes in with its own comprehensive list of policy recommendation to address water scarcity.
The timing of the rural drought couldn't be worse–20 million migrant workers are being repatriated from the cities due to insufficient jobs.  The government is pledging its full support (of course it would, its legitimacy depends on maintaining social order) through a variety of social security schemes.  GLF just wishes that these schemes would focus more on regenerative agriculture and soil rehabilitation and less on promoting conspicuous consumption and subsidizing consumption of electrical appliances!
Moving from the water quantity issues to water quality issues, Frost & Sullivan is saying that the water treatment industry is going to be one of the biggest beneficiaries of China's economic stimulus program.  RMB 350 million is slated for environmental projects this year, with much of that reportedly targeting the water industry.  Meanwhile, Guangdong as opened  a pioneering "zero wastewater discharge" power plant.  How's this for another pioneering concept–WSCOs, or water service companies, modeled after energy service companies (ESCOS), to seal those leaky pipes.
After almost a decade of investment, 61% of rural Tibet now has access to drinking water.
Two clean up drives for recent water pollution disasters–Songhua River and Taihu Lake are reportedly to be progressing satisfactorily.  Of course, government-controlled news feeds are not the most objective sources of these kinds of information, so who really knows?
The State Forestry Administration has drawn up development plans for the establishment of 60 new wetland parks.
Planes, Trains and Automobiles…but mostly Automobiles…and no Planes, really

A milestone has been reached–China has become the.  Elsewhere, rural communities will benefit from RMB 5 million in one-off subsidies to farmers to replace their high-emission vehicles with smaller, cleaner new ones driven by 1.3 liter or less engines.
Beijing is considering levying emissions fees on vehicles based on air displacement of vehicle engines and respective emission standards.  Such considerations come after positive results in three pilot  vehicle emission fee schemes in Hangzhou, Zhengzhou and Jilin that ended in 2003.
With a critical threshold of used cars in the market, used-car dealerships in China are experiencing a boon.  This may not be too much of a bad thing if used cars become preferred purchases over new cars, even so-called green cars–Scientific American weighs the life-cycle benefits of continuing the use of older gasoline-runned cars over buying newer more efficient models.
Xinjiang plans to nvest RMB 3.5 billion yuan this year in to build and upgrade 11,000 km highways in rural areas, enabling 80 towns to have access to asphalt roads and 400 villages to be connected in the highway network.
Eastern China's Jiangxi province plans to kick off 12 railway construction projects by 2012, involving an estimated investment of RMB 117 billion and which will bring Jiangxi's total rail length to 3,500 kilometers upon completion. Caiing ponders the financial feasibility of the nation's railway expansion plans.
Meanwhile, China and Germany signed a MOU on the transfer of parts of the core technologies from  Germany for maglev railway projects in China. The world's only commercially-running maglev runs from Shanghai's Pudong International Airport to a Shanghai suburb.  Plans to extend that line to Shanghai's Hongqiao airport and then to the city of Hangzhou may be scuttled by a separate proposal to build a conventional high speed passenger rail between Shanghai and Hangzhou.

International Collaboration
Premier Wen Jiabao pledged China's support for greener development and addressing climate change but drew the line at binding China to hard carbon emissions caps.  Will this come at the expense of low-carbon innovation?  Apparently, analysis by Environmental Economics blog shows that countries which adopted the Kyoto Protocol experienced more greentech innovation (measured by patent filings) that countries that did not.  But Dr. David Tyfield (in a previous interview with GLF) would probably have you know that China's low cost, low tech innovation can provide some interesting low carbon solutions.
Clearly emissions cap are not the last word.  There are many other things that a country can do besides capping one's emissions, such as increasing industrial efficiency, developing targets for renewable energy production and curbing other forms of air pollution.  Furthermore, these measures can be achieved in collaboration–with the world's other major non-signatory to the Kyoto Protocol, the United States (especially now with a greener and more sensible administration in charge).  Two high profile think tank policy reports on US-China clean energy collaboration, one by Asia Society and another by the Brookings Institution, have received much blog coverage lately.  CELB provides some expert commentary on both reports over three posts, beginning here.
Elsewhere, China and the EU signed a few MOUs on forestry and clean power.  Meanwhile, UK's University of Leeds has formed a strategic research alliance with China's Zhejiang University to focus on a broad range of clean energy technology applications.
Finally, we end this first February installment of Green Hops with a summary of a presentation by China hand, Ken Lieberthal, also one of the chief authors of the Brookings Institution report, on China's environmental situation (part one and part two, courtesy of Responsible China).
Tomorrow's Green Hops:Â  Energy roundup–Fuels from Heaven and fuels form hell!
Comments (4)
Trackbacks for this post