This edition of Green Hops is dedicated to Andrew Symon, a Singapore-based journalist specializing in energy and whom I have had the pleasure and honor of making an acquaintance of as a result of his writings at Asia Times Online.  He passed away unexpectedly on February 24, 2009.  Andrew's generosity, sense of mission and powerful intellect will be sorely missed.
Energy intensity (energy consumption per unit of GDP) last year was reduced by a further 4.59%, bringing the three year total in energy efficiency gains in 2006 through 2008 to 10.08%.  This means that to reach its 20% energy intensity reduction target over the five year period for 2006 through 2010, it will have to reduce almost another 10% in energy intensity over 2005 levels.  Even if it seems difficult to achieve, such efforts much press on.  To sobering reality is that China's annual greenhouse gas emissions surged 45% from 2002 to 2005 alone due to a combination of structural changes in industrial activities and increased consumption.  Half of that increase, apparently, was driven by manufactured exports. But the Chinese authorities say that exports in general are declining (25% year on year) and that the amount of "high-energy-consuming products" exported in 2008 declined 16.2%  from the previous year.
At the National People's Congress that just concluded, the central government has reiterated its commitment to its green stimulus measures.  But China Green Space thinks the green message has been rather mixed (here and here). China Environmental Law notes rebalancing of stimulus spending that results in a third less funds for sustainable development.   Hong Kong, meanwhile, is seeking its own green stimulus package, with buildings efficiency and electric vehicles as its focus areas (see also this story on EV efforts in HK).  Neighboring Macao is embarking on its own energy efficiency drives by focusing on its youth.
Fuels from Heaven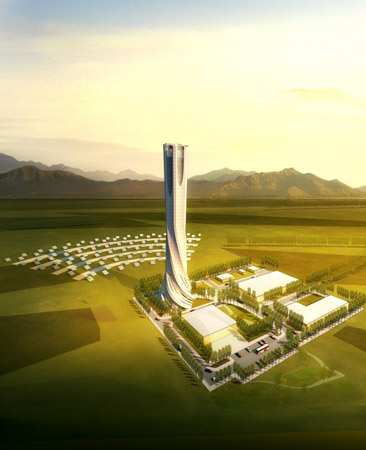 Beijing is planning for Asia's first solar thermal plant to begin operations as early as next year.  At 1.5 MW capacity, it can serve 30,000 homes and will consist of a 100 meter thermal tower surrounded by solar reflectors (called heliostats).  Elsewhere in Gansu, the number of bidders for its previously announced 10 MW solar plant has reached 50.  The bidders include some of the Big Five utilities, Suntech Power, and ever foreign developers from Germany and Denmark.
The Chinese solar sector is being hit hard.  LDK Solar, the world's leading solar wafer manufacturer by volume, experienced a financial quarter to forget, but also reported significant energy efficiency breakthroughs, reducing the amount of electricity needed to produce 1 kilogram of silicon from 300 kilowatt hours to 100 kWh.
With an annual output of 700 million tons of crop stalk, i.e. non-food parts of crops that are typically discarded after crop harvest, China is eyeing its cultivation of rice, wheat, corn and other crops as a replenishable source of stalk, which can be fermented through anaerobic digestion to produce biogas. Separately, China Daily profiles Dragon Power, China's largest biomass power producer.
Fuels from Hell
China signed up a mega bilateral energy deal with Russia last month.  China, through China Development Bank, will lend $15 billion to Russia's state-owned oil firm Rosneft and $10 billion to pipeline monopoly Transneft.  In return, the Russian firms, on the other hand, will ensure China gets 300,000 barrels of crude a day for 20 years.  This is just one of several energy deal in the works.  According to China Daily:
The two countries have agreed to work jointly in oil production and processing, natural gas production and in chemical industries. They have agreed to expand cooperation in nuclear energy, too, including the construction of nuclear power plant in Tianwan, Jiangsu province, uranium mining, and post-processing of spent fuel.
Physics majors will be in high demand; the shortage of skilled manpower may be a hurdle in China's quest to obtain 5% of its electricity from nuclear sources by 2020.  A private Chinese company, Sany, aspires to be the General Electric of China and has ambitions to enter the domestic nuclear market.
We can partially thank China's limited oil storage capacity, which prevents them from importing more oil than they like, for the continued low oil prices.  It is hoped that strategic oil storage projects in Tianjin and Gansu will address this bottleneck. [Update 3/13: See also this excellent piece by Elizabeth Balkan on China's oil stockpiling]
PetroChina plans to expand a refining and storage base in Guangxi, but it is reported elsewhere that its emphasis for the year will be oil and gas exploration, technical upgrades, and acquisition of overseas assets (to take advantage of relatively depressed crude oil prices).  CNPC has already dove into the action, agreeing to buy Canada's Venerex for about US$390 million.  Such foreign M&A activities will be provided with a tax support boost by the government.

A political adviser urges reforms for China's mineral licensing system, saying that such changes are necessary for mining companies, whose mining licenses only give them a right to explore and develop mines but not own such mineral resources, to pay for the true costs of such resources as well as to incent long term investments into worker safety.  Such exhortations come a little too late for 32 newly designated "resource-exhausted" cities.
China, via state-owned CNOOC, plans to as well as  its annual target of 60 million tons of imported LNG by 2020.  Separately, CNOOC plans to build a petrochemical refining complex in Hainan.
Auto and Transportation
Auto sales in February experienced a nice bump thanks to its consumption-based stimulus programs.  Interestingly, small cars (defined as under 1.6 liters in engine capacity) accounted for 70% of new sales.  The auto industry remains an economic priority, and hence China's addiction to oil continues.  Jilin province in the northeast might as well start paving the roads to the countryside as rural dwellers emerge as the unlikely white knights to the auto industry by taking advantage of new subsidies to purchase vehicles.  Given the decrease in farm incomes, it is not clear how sustainable such a strategy will be.
On a better note, the same Jilin province will see a fleet of 70 electric buses rolled out.  Reportedly, the buses will have a stunning range of 300 km running on lithium iron phosphate (LiFeSO4) batteries that take a mere 20 minutes charge. (Pictured right, a bus made by FAW Bus & Coach, one of the makers of these Jilin electric buses)
The Beijing-Hong Kong high-speed passenger rail will be completed by 2012, eight years ahead of schedule, thanks to increased spending on transportation infrastructure under the economic stimulus program.  Other fast rail projects on the cards include Beijing-Shanghai (which will be the world's fastest), Wenzhou-Fuzhou,
Power and Infrastructure
Power consumption continued its free fall in the first two months compared to the same period last year (3.7 %), although such decline is slowing compared to November  (17.5 %) and December (8.7 %) year-on-year decreases.   Similar downwards trends are being experienced across the straights in Taiwan. This does not augur well for the Big Five power companies, which saw continued financial losses in January due to sustained relatively high coal prices and decreased electricity demand.
The State Grid plans to spend RMB 250 billion (about US$38 billion) on grid upgrades, driven mostly by ultra high voltage transmission installations.  While not a small sum, it is only 0.8% more than the amount spent in 2008, compared to double-digit growth in expenditures in each of the past four years.  If the sheer scale of China's domestic grid infrastructure is not enough, China's overseas investments in grid infrastructure overseas (e.g. the Philippines) highlights China's outsized importance in this area.  Thus, grid infrastructure, and making it smart, represents a strategic area of cooperation between the U.S. and China because both countries seek to build out transmission to interconnect with large-scale but intermittent renewable energy in remote areas, as the recent Asia Society report identifies.
Water
Nationally, chemical oxygen demand (COD), a main index of water pollution, was down 4.42% last year. contributing to a total by 6.61% for the past three years.  Unlike its energy intensity targets, China is on pace to meet its 10% COD reduction target by 2010.
A massive bout of water contamination affecting 200,000 people in Yancheng city of Jiangsu province dominated the news of recent weeks.
Algae-chomping fish have been deployed to clean up Taihu, China's third largest freshwater lake.
Dirty power is cleaning up water.  Shanghai Electric Power Generation Group will partner with a Saudi Arabian firm to build desalination plants all over the world while Dalian Petrochemical is building China's largest wastewater utililzation plant.
The northwest province of Xingijang is planning the construction of 59 reservoirs to to collect meltwater from its shrinking glaciers.
Forestry, Food and Biodiversity

Aggressive afforestation and reforestation policies, like those in Shanghai, has seen China's national forest cover increase by 60 million mu (4 million hectares) per year.  China has a target to increase forest area coverage to 20% by 2010 and will commit RMB 60 billion annually towards this effort.
The recent drought, which hit wheat fields particularly badly, does not appear like it will have dire consequences to overall grain harvests due to  the small proportion that wheat contributes to overall grain production and timely interventions, natural (snow and rain) and man-made (irrigation).  The government has pledged 761 billion yuan of spending to boost agriculture, farmers and rural communities for 2009.
A new food safety law has been passed.  We've also added the food safety white paper under "Key Documents" in the right panel.
In a positive step for saving the "kidneys of the earth,"  the first nation-wide remote sensing map of wetlands has been completed.  The study showed that there are 308,000 square kilometers of wetlands in China in 2000, 50,800 square kilometers less than that in 1990.
Tibet will spend RMB 450 million on environmental protection following the central government's approval of RMB 20 billion investment (or is it RMB 15 billion?) in building an ecological safety shelter on the Qinghai-Tibet Plateau, which is considered a haven of biodiversity.
Elsewhere

The government will subsidize the sale of 100 million energy-efficient compact fluorescent light (CFL) bulbs this year to cut, double the number subsidized in 2008.
A pilot emissions rights trading program for key pollutants has reportedly been launched in the southeastern province of Zhejiang.
Planners are turning to rural consumers as the economic white knights.  Recent reports show that the electronic appliances and, as mentioned above, auto industry has benefited from this pro-consumption stimulus, but it is a worrying approach as it means that we will soon see the kinds of "mountains of garbage" that Beijing is currently experiencing.
Comments (4)
Trackbacks for this post