"We cannot pursue GDP with blood." Li Zhanshu, Governor of Heilongjiang province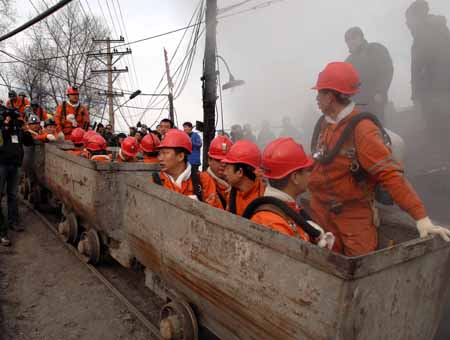 Pictured right, rescuers get ready to go down into the pit to search for survivors at the site of the accident at the Xinxing Coal Mine in Hegang City, northeast China's Heilongjiang Province on Nov. 22, 2009. (Photo credit: Xinhua, via China Daily)
Over the weekend, a tragic deadly coal mine blast in northeast China's Heilongjiang province, claimed, at the time of writing, 104 coal miner's lives. Another four remain missing. [Update:  the death toll has risen to 106.]  Coal mining in China has been understandably dubbed the world's deadliest profession, with a coal mine explosion seeming to take place every week.  Usually, these blasts are small, claiming half a dozen to a dozen lives.  The blast occurred at the Xinxing Coal Mine under the state-owned Heilongjiang Longmei Mining Holding Group's subsidiary in Hegang City.  Some 528 miners were working underground at the time of the blast.  The Hegang accident is the most deadliest in China in two years since 105 perished in December 2007 in an explosion in a Shanxi coal mine [Update:  now the deadliest since 181 perished in Shandong in August 2007].  In fact, one of The Green Leap Forward's first posts precisely discussed this fatal Shanxi blast two years ago as as a stark reminder of the price that China pays with its voracious appetite for coal.
Some things in China, it seems, just don't change.
The mining accident in Heilognjiang comes in the wake of an earlier-than-usual onset of a cold hard winter, coupled with a notable uptick in national GDP growth in the third quarter of this year, which is probably sustaining itself well into this final quarter.  With coal accounting for 80 percent of China's power needs, it is no stretch of the imagination that these combination of factors means that Chinese miners are now working much harder than usual.  "If the coal mine shuts down, the lights go out in Beijing," says a miner just outside of the classic coal towns, Datong, Shanxi.
As a state-owned mine, the Xinxing mine in Heillongjiang is supposed to be a relatively safer mine.  But that's not necessarily saying much in a country that reported 3,200 coal mine fatalities in 2008.  Details are now emerging that poor ventilation and management failures were responsible for the accident and slow evacuation of the miners.  If the 4 miners who are still missing are proven dead, the 108 casualties means that this will be the worst coal mine accident since one in Xintai, Shandong province, in August 2007, killing 181 miners.
The accident is a setback for the industry, which has been trying to turn the course on a horrible reputation for safety.  The government has been actively shutting down small and mostly illegal coal mines in a drive to consolidate the management of mines, and this has bore out in the overall trend of decreasing deaths, from nearly 6,000 in 2005 to 3,200 last year.  Still, the XInxing mine explosion is a reminder that a lot more remains to be done.
The company that owns Xinxing mine, state-owned Heilongjiang Longmei Mining, actually ranked last in productivity (measured in terms of coal out put per employee) among the top ten Chinese mining companies by employment according to 2006 data. at 204 tons of coal produced per employee.  Based on current data, that figure has declined even more to 136 tons per employee.  Said Kevin Jianjun Tu, a Vancouver-based energy and environmental analyst who has put out some of the leading work in China coal mine safety, in an exclusive interview with The Green Leap Forward:
Beijing's failure to reform even some of its key state-owned enterprises is a big problem; no doubt, the picture at local coal mines are even more bleak
A Deadly Time of Year
It has been observed that the deadliest coal mine accidents In recent years have mostly occurred in the winter. This is probably no coincidence, notes China Daily:
Almost all the accidents that caused more than 100 deaths since 2002 took place between late October and the end of February. There are several reasons behind it.

First, just as the Hegang coalmine warns on its website, winter is the season that sees the most irregular gas flows. And a gas explosion is indeed the most deadly threat for collieries. It was the cause of 21 coalmine accidents out of the 24 involving more than 100 deaths since New China was founded in 1949. Regulations regarding gas detection, alarm and evacuation must be implemented to the letter all year around, especially in winter.

Second, there is always a big increase in demand for coal during winter because of the need to provide heating. Demand is even stronger this winter as factories start to hum again with the economy beginning to recover. When prices go up, coalmines strive to produce more. The danger increases but safety measures are slackened when coalmines are overstretched to seek more profits. Once an accident happens, the coalmine will be ordered to stop production. But it will again operate above capacity after the ban to make up for what it has missed, leading to more accidents.
Why is China's Coal Mining the World's Most Dangerous?
Kevin J. Tu, the coal mining safety expert, provides an an excellent overview of the Chinese coal mining industry, offering some explanations to why mine fatalities in China are so much higher than other major coal mining countries.  One reason is China's continued reliance on underground mining.  In fact, China is the only "coal superpower" that has a minority share of its mining in the form of surface mining (less than 10 percent), which is generally far less risky ("Slope failure, the principle hazard of surface mines, is much easier to control than underground mining dangers, which include gas explosions, flooding and roof collapse").  Underground mining predominates China's coal sector because it is deep down in the seams that the high quality coal (bituminous and anthracite) can be found (see chart below). Lower quality coal (lignite) are not only less abundant in China, but also more capital intensive for large scale recovery because they require more advanced technologies for combustion, and are hence cost-prohibitive.
Raw coal production by coal type, 1980 to 2006
Source: Lawrence Berkeley National Labs
Moreover, the low productivity of China's coal sector leads to a high number of workers being packed into the mines, leading to high numbers of casualties whenever there is an accident.  Indeed, overcrowding was found to be the case in the Heilongjiang accident.  According to AP:
The head of China's State Administration of Work Safety told the official Xinhua News Agency that the mine's management failed to evacuate workers promptly, but his deputy went further.

The mine had too many platforms and workers inside in an effort to increase output, the deputy head, Zhao Tiechui, told Xinhua. He called the structure "far too complicated for its current ventilation system to work effectively."
There has also been a chronic underinvestment in mining safety.  A Greenpeace report from last year on China's coal industry compares the level of investment in mining safety in China with other countries:
In the U.S. and Germany safe production costs account for 25 to 30 per cent of the total cost of coal production, equivalent to 17.5 to 21 per cent of coal prices in the period 2000-2006, with an average of 19.25 per cent. In China, however, safety costs account for only 3.5 per cent of the price of coal.  Coal mining companies in China therefore invest 15.75 per cent less of their coal price in safety than countries with mature market systems. Based on a demand and supply price elasticity index of 0.33, it can therefore be inferred that China's coal price is under-valued by about 5.25 per cent.
The emergence (and eventual prevalence) of collective mines such as township and village enterprise (TVE) mines, as well as private mines, as alternatives to state-owned operations (see chart below) have also contributed to a governance problem.  According to Tu Jianjun:
The large amount of TVE mines soon led to problems of regulation, tax evasion, environmental degradation and mounting mining accidents…The problem with most TVE mines is their unwillingness (or lack of capital) to invest in proposer safety mechanisms.  Coupled with poor regulations enforcement, TVEs have created a coal mining industry that constantly operate at a capacity far beyond its safe threshold.
Coal production by mine-ownership, 1949 to 2009

Source: Jianjin Tu (2009). Industrial Organization of the Chinese Coal Industry. A report prepared for the PESD at Standford University.
Statistical distortions is an endemic disease preventing the Chinese government take adequate actions to counter coal mine accidents. Since the inception of the People's Republic of China in 1949, official sources have put China's cumulative coal mining fatalities at more than 250,000, but independent estimates are much higher. "Beijing won't be able to satisfactorily rein in its chaotic coal mining industry unless Chinese energy policy decision makers could realize how unacceptable the statistical distortion issue is" said Kevin J. Tu to The Green Leap Forward.
Finally, the problem of corruption, bribes to inspectors, and poor enforcement of regulations (what else is new in Chinese environmental governance?) is applicable to coal mining in China.
For an excellent award-winning interactive online documentary of coal mining in Datong, Shanxi, click on the image below:
Is there any silver lining?
These coal mining accidents are a symptom of a larger problem–China's overreliance on coal as an energy source.  This is not expected to change as the alternatives to coal, such as natural gas, nuclear and renewables each have their problems.   But its not like the government is sitting on its hands.  Besides trying to promote energy diversity through the development of nuclear and renewable energy sources, it has also taken aggresive steps to restructure and reform the coal industry.  It has adopted "the Program of Large Substituting for Small" (上大压小) in various industrial sectors including thermal power.  This has had the effect of increasing the thermal efficiency of coal-fired power plants across the national fleet, with the implication that less coal is needed than would otherwise be without such a policy, lessening pressures for coal mines to produce beyond their capacities.
Since 2006, China has shut down 54 GW worth of small, inefficient coal plants (meeting is 11th 5-year plan target of shutting down 50 GW of such capacity ahead of swchedyle) and plans to shut a further 31 GW in the next three years (see previous post "Putting China's Coal Power Sector in its Proper Perspective").  The government is also carrying out a deliberate plan of closing smaller inefficient mines, with a goal of reducing the number of coal mines with a production capacity of less than 300,000 tons from 14,000 in 2008 to 10,000 by 2010.  (The Xingxing mine in Heilongjiang, by comparison, had a production capacity of 1.45 million tons, so by no means falls under this category.)  Through a combination of consolidation and mechanization, the NDRC has a target of raising average coal resource recovery rates from the 2005 official national average of 46 percent to 50 percent by 2010.
The strict closures of small coal mines by the government are not necessarily a sound approach, according to Kevin J. Tu, in his paper:
…not all small coal mines are operating dangerously. Closing coal mines solely based on capacity unfairly shuts down those small coal mines that strive to meet safety requirements. It is important for the government to maintain a healthy presence of licensed small TVE mines to induce competition in the coal mining industry and attract long-term investment from the private sector.

Closing mines without careful consideration has other negative consequences. Following the 2005 Daxing mine accident that killed 123 miners in Guangdong, the local government temporarily shut down all collieries within the mine's geographic vicinity. Putting underground mines out of commission in this way, however, often leads to an accumulation of methane, increasing the chances of explosion once they are put back to operation. Moreover, fearing negative impact on the performance review of provincial cadres, the Guangdong government eventually closed all collieries across the province permanently. This decision deeply impacted the interests of all stakeholders in Guangdong's coal mining industry, especially the colliery owners and thousands of migrant peasant workers.
Valuing Human Life
Another important step to enhance mining safety is for the government to take seriously the value of miners' lives.  A fair floor on compensation to the families of the deceased should be mandatorily set so that it acts as a deterrent for mine owners and managers.  To put his challenge in perspective, Tu Jianjun accounts in his paper how the even the award of RMB 200,000 (about USD 25,000) per fatality as set by the Shanxi provincial government in 2005, which was viewed as a major improvement over the status quo (prior to 2004, compensation ranged froma mere RMB 10,000 to 50,000, or USD 1,300 to 6,500), still only accounted for 1 percent of gross profits of mining operations, assuming the 2005 fatality rate of 2.73 miners per million tons of coal.  The families of the deceased from the Xinxing mine disaster, in comparison, will receive at least RMB 250,000 (or USD 36,600).  Better, but probably still not enough to matter, both in terms of acting as a deterrent, but perhaps more importantly, as a matter of decency and dignitity to the value of human life.
An op-ed in China Daily put it in stark and ironic terms:
"You have only one life. There is no rehearsal or do-overs," says a slogan of the group which owns the Hegang coalmine. If the mine owners and authorities are serious about the value of a miner's life, they should put it above market demand, profits or GDP growth.
Although "coal towns remain the heartbeat of China's economy," let's hope more people share the sentiments of Heilongjiang Governor Li Zhanshu when he says:
Development is the top priority, but gross domestic product cannot be traded for the lives and blood of employees.
In the long term, there is going to be a need to wean China's energy needs from coal.  Restructuring its economy so that it starts to move away from energy-intensive heavy industries seems is one idea, as I mention in my interview with ClimateWire,  but "it's not going to happen overnight, and it's going to take a while for the transition to happen," especially if its massive urbanization and growth of its auto sector is any indicator of its projected continued reliance on energy-intensive industrial processes.