Editors Note:  We are pleased to announce that John Romankiewicz, aka Sustainable John, of Low-Carbon Style fame has joined the GLF team as a contributor!  This is his maiden GLF post, a video interview / book review.
If Dr. Richard Muller, author of "Energy for Future Presidents" were President of China, he'd get the country to switch from coal to natural gas in a hurry.
Dr. Richard Muller is well-known for his popular science book and UC Berkeley course "Physics for Future Presidents". While that volume explores a number of science and technology topics that a president might face including bio-terrorism, nuclear war, and space exploration, his latest volume "Energy for Future Presidents" focuses solely on energy through the lenses of energy security and climate change. Muller, a professor of physics at UC Berkeley and Faculty Senior Scientist at Lawrence Berkeley National Laboratory, has devoted much of the past five years to understanding our climate problem and our global energy system.

Last week, I had the opportunity to sit down with Dr. Muller and ask him a set of questions related to China's energy situation.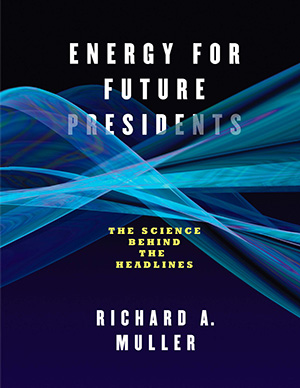 While his book is entitled "Energy for Future Presidents", I also asked him to ponder "energy for current presidents" as well. That is, if he were Xi Jinping (and leaving aside the technicalities and intricacies of of how national policy, laws and regulations are made in China) what would be his energy policy priorities coming into office in March? In his response (beginning at 2:45 in the video), Muller reflects that a switch to natural gas is urgently needed and he expresses his support for the U.S.-China Shale Gas Initiative, which the Obama administration spearheaded in November 2009.  In future blog posts, Green Leap Forward will investigate the promise and perils that natural gas poses to China's energy future.
Throughout Muller's book, he keeps the reader aware of public perception of politically risky energy policies, say for instance the support of nuclear power in the wake of Fukushima or support of energy technology cooperation with a rising China. Yet, he remains a science adviser in this volume, and nothing more. Science has many answers, but it is the job of the president to communicate these answers — often a delivery of tough medicine amidst a range of misconceptions or mixed priorities. On solar, he says in his book:
Already US solar companies are being driven out of business by the cheaper Chinese cells. What's the solution? How do you balance the value of a vigorous Chinese industry with the value of a vigorous US industry? Whatever the answer is, it's beyond the ability of a science advisor to advise. Good luck with this one.
Even if Muller doesn't have all the answers, you won't regret reading this book. And all in good preparation because, hey, you might be president one day.