In September, President Hu Jintao announced that China will seek to reduce its carbon emissions per unit of GDP, or carbon intensity, by a "noticeable margin" (see previous post "China's Carbon Intensity Plans and its Impacts on Climate Progress").  The world has been waiting with bated breath to learn just how noticeable this margin will be.  The China Council of International Cooperation on Environment and Development, or CCICED, an advisory body of 200 international experts formed in 1992 that provides environmental policy advice to the Chinese central government, are the first to formerly propose some numbers.
According to China Daily, CCICED recommends in a report that  China should aim to reduce its carbon intensity by 4 to 5 percent per year, year-on-year, until 2050.  There is no mention in the China Daily article about when CCICED thinks these reductions should commence, what the assumptions to GDP growth are till 2050, nor what levels of carbon emissions will result by 2050 if such measures were taken.  What is known is if such measures are taken, presumably deduced from modeling performed by CCICED, is that:
Carbon intensity will fall by 85 to 90 percent by 2050 compared to a 2005 baseline
Energy intensity, or amount of energy consumed per unit of GDP, will need to be reduced between 75 and 85 percent by 2050
The manufacturing sector in proportion to the national economy will shrink from 50 percent to 30 percent by 2050
More than half of new energy demand should be met by low-carbon energy by 2030, and all new energy should be low-carbon by 2050
Carbon capture and storage, or CCS, will need to be an important technology promoted by 2030. [This last point on CCS is consistent with the scenarios study conducted by the Tyndall Center (see previous post "Tyndall Centre Climate Report:  High Hopes for Low Carbon"), and we'll  have more on CCS in a later post]
How much will all this cost?  Probably far less than the cost of inaction.  A recent report by WWF, for instance, describes the devastating climate impacts to China's Yangtze River, the lifeblood of Southern China's economy and food supplies.
What kinds of policies are necessary to meet this 2050 goal? Read the full story
As expected, the U.S.-China presidential summit in Beijing yielded an agreement on clean energy and climate change that focused on collaboration rather than emissions target setting (see my comments in Time.com and China Daily).  Here's a run-down on what this cooperation entails, in a piece published simultaneously at Climate Progress with my colleague Andrew Light.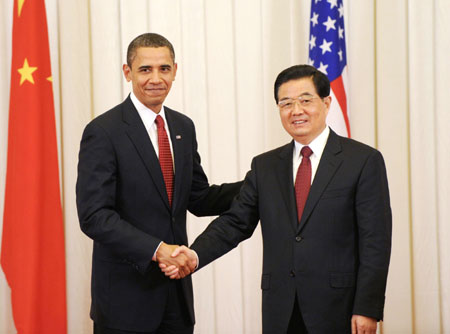 "Very exciting day here in Beijing.  There's enormous interest in both governments in working together to fight climate change. The package announced today is far-reaching and can make a real difference in cutting emissions." - David Sandalow, Assistant Secretary of Energy for Policy and International Affairs
Today, a comprehensive plan for U.S.-China cooperation on clean energy and climate change was announced in Beijing by President Barack Obama and President Hu Jintao. The overall plan is much more ambitious in scope and depth than we had anticipated and contains directives to create various institutions and programs addressing a wide array of cooperation on clean-energy technologies and capacity building, including very important efforts on helping China build a robust, transparent and accurate inventory of their greenhouse gas emissions.
These efforts include cooperation in the following areas:
1.  Greenhouse Gas Inventory.  A memorandum of cooperation between the U.S. Environmental Protection Agency and China's National Development and Reform Commission sets out avenues for collaboration on capacity building in climate change, with an initial focus on helping China to develop a robust, transparent and accurate greenhouse gas emissions inventory.
2. Joint Clean Energy Research Center. Originally announced this July, more details were provided on the joint center that will "facilitate joint research and development of clean energy technologies by teams of scientists and engineers from the United States and China, as well as serve as a clearinghouse to help researchers in each country."  Financial support from public and private sources of at least $150 million over five years, split evenly between the two countries, will be provided.  The Center's research will initially focus on building energy efficiency, clean coal including carbon capture and storage, and clean vehicles. (Factsheet)
3.  Electric Vehicles. Those initiative will "include joint standards development, demon Read the full story
Last month, I reviewed the Tyndall Center report on China's Energy Transition: Pathways for Low Carbon Development and expressed three specific concerns.  Since then, I've had an opportunity to exchange emails with Dr. Wang Tao (pictured right), one of the co-authors of the report.  He has taken time to address my questions and has graciously agreed to have his explanations posted here.
Here are the concerns I raised on my last post, rephrased for clarity, and Dr. Wang's responses.
1.  In choosing a global carbon budget for the report's scenario analysis, a target of 450 ppm of carbon dioxide, which translates to roughly 550 ppm carbon dioxide equivalent, is used.  Is 550ppm CO2e a safe target, especially considering what we know about negative feedback loops and runaway climate change?
No. As many already know, climate change is already happening and there have been many arguments about what is a relatively safe level of carbon concentration to avoid dangerous climate change impacts. The scientific consensus has not been reached; as I have witnessed myself in the Copenhagen climate science congress in March 2009, you can hear people talking about levels from as low as 300 ppm to as high as  550ppm, yet no one is be perfectly sure. I do recognize that the 550 ppm target that we choose  is at the upper end; this does not mean we accept this level as acceptable, but that is the only figure with wide scientific consensus in the IPCC AR4. I would like to reduce it to lower level if there is another widely accepted level. The report has shown that even with 550ppm CO2e it would be very difficult to reach and require significant courage from government to take radical changes soon. It is better to get them moving rather than scare them off at the first place, right? With the same methodology, you could always apply lower CO2 level if wanted, but the trajectories may look scarier. Our choice is rather a compromise between what is ideal and what is practical, as we said in the report. Read the full story