As expected, the U.S.-China presidential summit in Beijing yielded an agreement on clean energy and climate change that focused on collaboration rather than emissions target setting (see my comments in Time.com and China Daily).  Here's a run-down on what this cooperation entails, in a piece published simultaneously at Climate Progress with my colleague Andrew Light.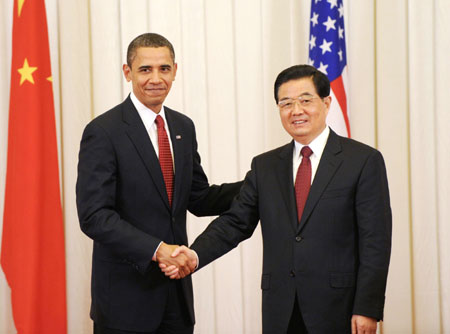 "Very exciting day here in Beijing.  There's enormous interest in both governments in working together to fight climate change. The package announced today is far-reaching and can make a real difference in cutting emissions." - David Sandalow, Assistant Secretary of Energy for Policy and International Affairs
Today, a comprehensive plan for U.S.-China cooperation on clean energy and climate change was announced in Beijing by President Barack Obama and President Hu Jintao. The overall plan is much more ambitious in scope and depth than we had anticipated and contains directives to create various institutions and programs addressing a wide array of cooperation on clean-energy technologies and capacity building, including very important efforts on helping China build a robust, transparent and accurate inventory of their greenhouse gas emissions.
These efforts include cooperation in the following areas:
1.  Greenhouse Gas Inventory.  A memorandum of cooperation between the U.S. Environmental Protection Agency and China's National Development and Reform Commission sets out avenues for collaboration on capacity building in climate change, with an initial focus on helping China to develop a robust, transparent and accurate greenhouse gas emissions inventory.
2. Joint Clean Energy Research Center. Originally announced this July, more details were provided on the joint center that will "facilitate joint research and development of clean energy technologies by teams of scientists and engineers from the United States and China, as well as serve as a clearinghouse to help researchers in each country."  Financial support from public and private sources of at least $150 million over five years, split evenly between the two countries, will be provided.  The Center's research will initially focus on building energy efficiency, clean coal including carbon capture and storage, and clean vehicles. (Factsheet)
3.  Electric Vehicles. Those initiative will "include joint standards development, demon Read the full story