Top Stories: Cash for renewables; China may raise fuel economy standards; Pledges smart grid by 2020; Beijing water price hike

I'm not one for sensationalism, but my gosh, when multiple news sources are reporting that the much anticipated renewable energy stimulus package will is going to be for the massive amount of 3 trillion yuan ($440 billion), its hard to resist.  The amount is startling, considering that is is three quarters the size the economy-wide stimulus plan announced last November.  No details have been given about the allocation of these funds; the news reports are saying a focus on wind, given the recent tripling of wind energy targets in 2020 to 20 GW installed capacity.
But given the size of the funds, one must really wonder if this is going to be a big handout to the nuclear industry, which itself benefited from a national target boost to 70 GW installed capacity by 2020, or big hydro for that matter.  Unlike the November stimulus package, which was meant to be a short term boost for industry, this renewable energy package seems to be more far-sighted money, meant to be deployed over time from now till 2020.  $440 billion is still quite a large sum considering that National Energy Bureau division chief Liang Zhiping was recently quoted as saying that a sum of $190 billion was needed to realize China's 2020 renewable energy targets, but more consistent than the forecast by New Energy Finance last year that $398 billion (or $268 billion excluding big hydro) is needed.  Then again, we also don't to what extent nuclear, big hydro and grid infrastructure figure into the $440 billion on $190 billion numbers (they do not in NEF's $268 billion forecast), so its all very hard to say.
Another Chinese report suggests that the package will actually be 4.5 trillion yuan ($660 billion) and tied to Read the full story
Today is Earth Day. Happy Earth Day.
Today is also the opening ceremony of the Beijing International Automotive Exhibition 2008, which runs all week.
This ironic confluence of Earth Day and the Beijing Auto Show is perhaps iconic of the economy versus ecology juggling act that China has had to deal with. China is experiencing an explosion in private automobile ownership. The combination of a growing middle class, widening reach of consumer credit financing and liberalization of the auto sector stemming from China's entry into the WTO earlier this decade is driving this trend. Foreign luxury car makers anticipate a boom market for years to come, and are investing heavily in China. While all this investment and production is boosting GDP, it is also exerting collateral damage by putting a strain on the country's petroleum resources as well as air quality. Resulting traffic congestion also cuts into productivity; I've experienced this first hand living here in Beijing for a mere four weeks. Rush hour on the road is not a pleasant experience and not a short one either.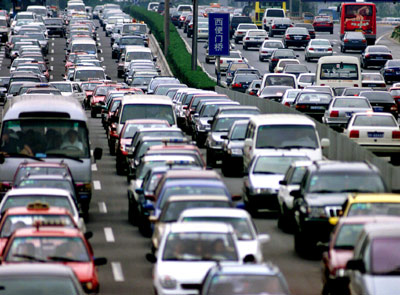 This 2006 Wall Street Journal piece provides an excellent and concise overview of the history of the automobile in China, and the evolution of the juggling act. From this piece, it is clear to see that once the government appreciated the massive contributions to GDP that the auto industry presented, it would be to lift the foot off this accelerating economic growth engine. The multiplier effects of the auto industry become quite apparent when one just thinks about the various parts that make up a car—the shell, rubber tires, hundreds of different auto parts including the battery, glass, lubricants, plastic, PVC. Each requires specialized skills, and hence a large work force, and lots of heavy duty machinery for the assembly line and manufacturing plant. And I haven't even mentioned other indirect multiplier effects. The auto industry effectively serves as a subsidy for the oil industry and highway infrastructure build out.
My Way or the Highway
Well, China has chosen the highway. It's a scary thought. China is repeating the US' mistakes by building a transnational highway network of that is projected to reach a whopping 2.1-2.3 million km by 2010, up from "minuscule" 41,000 km at the end of 2005. What really takes the cake is the recent opening of the Kunming-to-Singapore transnational highway. But this is just the beginning; they intend to extend this highway to Beijing. To put this in context, it takes about 7 hours to fly from Beijing to Singapore. That's a lot of friggin' asphalt. INSANE.
The consequences of a (over) developed highway network are both positive and negative. Sure it increases connectivity between cities, reducing transportation costs and boosting economic productivity in the conventional sense. But it breeds urban sprawl and a sick, sick car culture that is already prevalent in the U.S.
The Long and Winding Road to Sustainability
Sustainable auto policy is tricky business in China. The government has had to backpedal on promoting biofuels that use due to the strain on food supply and prices exerted by grain-based biofuels. The government has been enacting fuel efficiency standards that surpass those of the US and follow just behind those of the EU in terms of stringency. Another encouraging move is the auto parts recycling scheme that I have previously highlighted (more details here).
But I want to talk more about the introduction of hybrid cars, as a number of new models were unveiled at the Beijing Auto Show.
The Price is Right—the Challenge of Pricing Hybrids
The introduction of hybrid cars (and other green car technologies in the future for that matter) into China face a unique cost hurdle. Gasoline prices at the pump is heavily subsidized in China; the Chinese government has had to compensate its state oil refiners for their losses resulting from the excess of their costs of purchasing crude oil over the state-mandated low prices of gasoline at the pump. The artificially low pump prices reduces the incentive to purchasing more fuel efficient makes of cars. Non hybrid cars are also very cheap. Says a WSJ article yesterday on the issue:
Wu Zhixin, director of research and development at the China Automotive Technology and Research Center, a think tank in Shanghai, says his survey research shows that the majority of Chinese drivers would be willing to buy a hybrid — if the price tag were no more than 20% higher than that of a conventional car. That is a tough challenge since compact and smaller cars, which made up 67% of all car sales in China last year, are selling for as little as $4,500.
And how much do hybrids cost?
The [Toyota] Prius, with a starting price of [US]$21,000, is popular in the U.S., where fuel prices are high. But in China, the same car costs nearly [US]$40,000 because of government duties on imported parts, higher production costs and, analysts say, no competition to drive down prices. For that money, many wealthy Chinese consumers are choosing high-end sport-utility vehicles and luxury cars.
GM recently announced that it will be introducing its hybrid cars in China in July. Price tag? US$43,000. However, when the Chinese auto companies start rolling out their own hybrids for the domestic market, we can expect prices to drop significantly. Not only will increased competition drive prices down, but as is characteristic of protectionist industrial and trade policies of China, domestic producers can expect to receive favorable tax treatment that can hopefully be passed down to consumers. Chinese companies SAIC, and Chery are already planning to manufacture their own hybrid models.
For More Info
For other great resources on sustainable auto issues in China, check out the work of the Innovation Centre for Energy Technology, a non-profit think tank in Beijing focused on low carbon fuels and green cars, and that of one of the world's leading researchers of the topic, Kelly Simms-Gallagher of the Belfer Center at Harvard's Kennedy School of Government, including her book—China Shifts Gears.