A Look Under the Hood at China's High-Speed Rail Investments, originally published here.

We took the high-speed CRH3 train that runs between Beijing and Tianjin. Technology for the CRH3, assembled in China, was originally derived from Siemens' Valero line of train technologies.
President Dwight D. Eisenhower put a down payment on the U.S. economy in 1956 by signing the National Interstate and Defense Highways Act. This wise investment in a modern, transformative transportation infrastructure—in the form of 41,000 miles of interstate highways—enabled the rapid movement of people and goods across the nation and was vital to our astounding economic progress for the next 50 years.
Today, it is China that is leading the world in a key next-generation transportation technology: high-speed rail. China has already built 4,000 miles of rail featuring trains with average speeds of 120 miles per hour or greater, and the country plans to build an additional 10,000 miles of high-speed rail connecting all of China's major cities by 2020.
CAP experts experienced the high-speed rail firsthand during our recent fact-finding mission to China. We took the train from Beijing to Tianjin, reaching a top speed of 205 mph and covering the 73-mile journey—roughly the distance between New York and Philadelphia—in less than 30 minutes. Stepping off the rail platform, it was hard not to get the feeling that China is racing ahead in investing in mass public transit infrastructure while the United States is lagging behind in the race to develop clean energy industries.
China's $300 billion investment in high-speed rail
China already boasts a rail network that, including both standard and high-speed rail, is more than 53,000 miles long. And China plans for that network to reach 68,000 in 2012 and 75,000 by 2020. All of China's provincial capitals have been connected by rail since the 1960s, and unlike the United States, rail is already a major mode of intercity passenger transportation.
Inside the train operator's cockpit of the CRH3. In its less-than-30-minute journey from Beijing to Tianjin, the train has a maximum speed of 330 kilometers per hour (205 miles per hour).
The country began planning its nationwide network of high-speed rail in the early 1990s. And China began implementing a series of six "speed-up" campaigns in the late 1990s to modernize its existing rail infrastructure by increasing the speed and capacity of its lines. It also plans to build new passenger-dedicated high-speed rail lines. Indeed, the centerpiece of China's Medium- to Long-Term Railway Network Plan is a new national high-speed rail grid overlaid onto the existing rail network. The new grid would consist of four north-to-south corridors, four east-to-west corridors, and two additional Read the full story
Its been a busy few weeks since our last Green Hops, so GLF is gonna pack in the updates over two posts consecutive posts.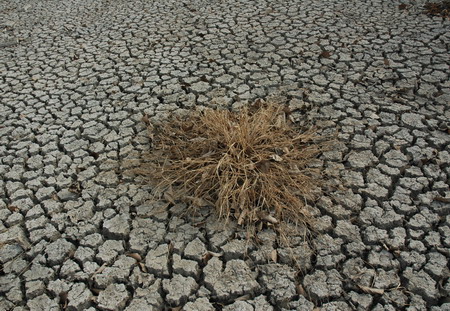 Drought
The "worst drought in half a century" affecting eight northern and central provinces dominated the past week's news.  A 90 percent drop in average rainfall since last November will affect 11 million hectares of wheat crops and create a drinking water shortage for 4.4 million people and 2.2. million livestock.  RMB 187 billion of emergency funds have been earmarked.  As stop-gap measures, authorities are diverting water from the Yangtze and Yellow River to drought-ridden areas, as well as shelling the sky with pellets to induce rain, Beijing Olympics-style.  The water diversion measure has been able to get half of the wheat lands irrigated, but is rather ironic given that a recent study shows that 82% of China's whopping 3.57 million square kilometers of degraded lands (equivalent to the size of 10 Germanys!) exists in the Yangtze River and Yellow River valleys.  The water scarcity woes of northern China have been well described on this blog by Christine Boyle.  The World Bank also chimes in with its own comprehensive list of policy recommendation to address water scarcity. Read the full story
Today is Earth Day. Happy Earth Day.
Today is also the opening ceremony of the Beijing International Automotive Exhibition 2008, which runs all week.
This ironic confluence of Earth Day and the Beijing Auto Show is perhaps iconic of the economy versus ecology juggling act that China has had to deal with. China is experiencing an explosion in private automobile ownership. The combination of a growing middle class, widening reach of consumer credit financing and liberalization of the auto sector stemming from China's entry into the WTO earlier this decade is driving this trend. Foreign luxury car makers anticipate a boom market for years to come, and are investing heavily in China. While all this investment and production is boosting GDP, it is also exerting collateral damage by putting a strain on the country's petroleum resources as well as air quality. Resulting traffic congestion also cuts into productivity; I've experienced this first hand living here in Beijing for a mere four weeks. Rush hour on the road is not a pleasant experience and not a short one either.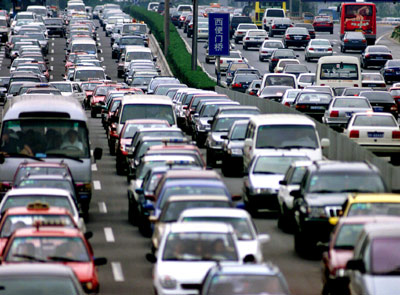 This 2006 Wall Street Journal piece provides an excellent and concise overview of the history of the automobile in China, and the evolution of the juggling act. From this piece, it is clear to see that once the government appreciated the massive contributions to GDP that the auto industry presented, it would be to lift the foot off this accelerating economic growth engine. The multiplier effects of the auto industry become quite apparent when one just thinks about the various parts that make up a car—the shell, rubber tires, hundreds of different auto parts including the battery, glass, lubricants, plastic, PVC. Each requires specialized skills, and hence a large work force, and lots of heavy duty machinery for the assembly line and manufacturing plant. And I haven't even mentioned other indirect multiplier effects. The auto industry effectively serves as a subsidy for the oil industry and highway infrastructure build out.
My Way or the Highway
Well, China has chosen the highway. It's a scary thought. China is repeating the US' mistakes by building a transnational highway network of that is projected to reach a whopping 2.1-2.3 million km by 2010, up from "minuscule" 41,000 km at the end of 2005. What really takes the cake is the recent opening of the Kunming-to-Singapore transnational highway. But this is just the beginning; they intend to extend this highway to Beijing. To put this in context, it takes about 7 hours to fly from Beijing to Singapore. That's a lot of friggin' asphalt. INSANE.
The consequences of a (over) developed highway network are both positive and negative. Sure it increases connectivity between cities, reducing transportation costs and boosting economic productivity in the conventional sense. But it breeds urban sprawl and a sick, sick car culture that is already prevalent in the U.S.
The Long and Winding Road to Sustainability
Sustainable auto policy is tricky business in China. The government has had to backpedal on promoting biofuels that use due to the strain on food supply and prices exerted by grain-based biofuels. The government has been enacting fuel efficiency standards that surpass those of the US and follow just behind those of the EU in terms of stringency. Another encouraging move is the auto parts recycling scheme that I have previously highlighted (more details here).
But I want to talk more about the introduction of hybrid cars, as a number of new models were unveiled at the Beijing Auto Show.
The Price is Right—the Challenge of Pricing Hybrids
The introduction of hybrid cars (and other green car technologies in the future for that matter) into China face a unique cost hurdle. Gasoline prices at the pump is heavily subsidized in China; the Chinese government has had to compensate its state oil refiners for their losses resulting from the excess of their costs of purchasing crude oil over the state-mandated low prices of gasoline at the pump. The artificially low pump prices reduces the incentive to purchasing more fuel efficient makes of cars. Non hybrid cars are also very cheap. Says a WSJ article yesterday on the issue:
Wu Zhixin, director of research and development at the China Automotive Technology and Research Center, a think tank in Shanghai, says his survey research shows that the majority of Chinese drivers would be willing to buy a hybrid — if the price tag were no more than 20% higher than that of a conventional car. That is a tough challenge since compact and smaller cars, which made up 67% of all car sales in China last year, are selling for as little as $4,500.
And how much do hybrids cost?
The [Toyota] Prius, with a starting price of [US]$21,000, is popular in the U.S., where fuel prices are high. But in China, the same car costs nearly [US]$40,000 because of government duties on imported parts, higher production costs and, analysts say, no competition to drive down prices. For that money, many wealthy Chinese consumers are choosing high-end sport-utility vehicles and luxury cars.
GM recently announced that it will be introducing its hybrid cars in China in July. Price tag? US$43,000. However, when the Chinese auto companies start rolling out their own hybrids for the domestic market, we can expect prices to drop significantly. Not only will increased competition drive prices down, but as is characteristic of protectionist industrial and trade policies of China, domestic producers can expect to receive favorable tax treatment that can hopefully be passed down to consumers. Chinese companies SAIC, and Chery are already planning to manufacture their own hybrid models.
For More Info
For other great resources on sustainable auto issues in China, check out the work of the Innovation Centre for Energy Technology, a non-profit think tank in Beijing focused on low carbon fuels and green cars, and that of one of the world's leading researchers of the topic, Kelly Simms-Gallagher of the Belfer Center at Harvard's Kennedy School of Government, including her book—China Shifts Gears.